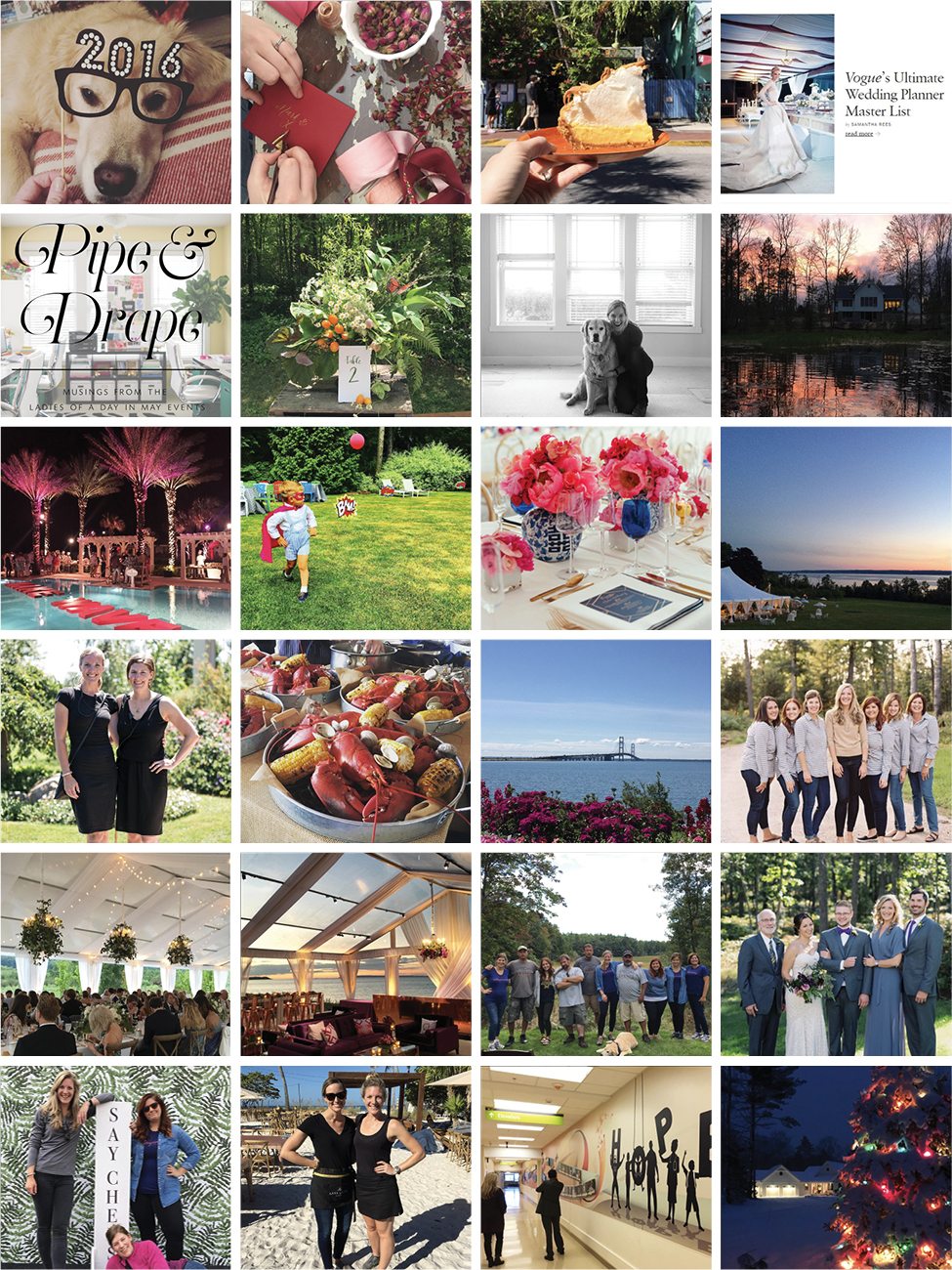 The end of 2016 is here and we are taking a moment to reflect on all of the beautiful moments gifted to us the past 12 months. (We couldn't fit them all in here but we did choose a handful of our favorites!). We kicked off the year with our chief snuggle officer and then crafted one of a kind Valentines Day gifts at Bloom Floral Design's new space – Studio 704 Event Design House in Charlevoix! Lish and Cammie from Epicure Catering hopped on a plane to Key West to partake in the ultimate Key Lime Pie Tasting Challenge. Then we celebrated the ultimate pinch-me press moment, being featured on Vogue's Ultimate Wedding Planner Master List!
ADIM launched a blog (thank you for keeping up with us here on Pipe & Drape!) and then had the opportunity to attend two great industry events: the RT Lodge Fam trip in Tennessee and Engage16! at the Breakers.
Many days in 2016 were spent with cardboard boxes and packing tape. ADIM, Lish and Tana each moved into new homes… plus we moved all of our event inventory into a new storage space!
Before we knew it event season had arrived! It is the greatest honor and joy to celebrate the most special days and beautiful beginnings with our incredible clients. We kicked off the season by celebrating a special four year old at his superhero racecar birthday celebration, then our team (and Ohmee!) hit the road and arrived at Reeds Lake for a chic boho wedding on the water. The following weekend, we returned back to Traverse City to toast a gorgeous couple at their tented celebration on Old Mission Peninsula. (The sunset that evening was spectacular and reminded us how truly special summers in Northern Michigan will always be!). We lobster boiled and set sail on the Straits of Mackinac and even squeezed in a team photo shoot with Tec Petaja! In Suttons Bay, our bride and groom tied the knot amongst the most beautiful gardens and danced the night away under the stars. We then headed to Glen Arbor as two special people with the most kind and loving souls celebrated their marriage with their nearest and dearest.
Our last wedding of the season was a special one as it was in our own ADIM Family…Lish's brother, Andrew, and sister in law, Amy, were married at Casa de Caldecott! It was an unforgettable day filled with so much love, light and amazing dance moves (Lish and Andrew planned the most epic brother sister dance ever!)
After 8 weeks and 6 events, we wrapped up event season with an engagement party for a wonderful couple and their lovely families in Grand Rapids. We closed out the rest of the year working with our fellow magic making, event industry friends! Lish had the opportunity to work with Anna Lucia Events on a party unlike any Naples, Florida has ever seen! Then we headed to the Event on Main to support our Little Victors, the patients at the University of Michigan C.S. Mott Children's Hospital. The last few weeks our team has been celebrating the holidays with our friends and family and getting geared up 2017!
Thank you 2016 for another fabulous year…we can't wait to see what 2017 has in store! Wishing you and yours a happy and healthy New Year! Cheers to you!
xoxo